Avaya Business Telephone Systems
A reliable, feature-rich, and expandable business phone system is a must in today's fiercely competitive economic environment. DTS.communications is pleased to offer business phone systems from Avaya, a global leader in the world of business communications, applications, and systems.
Avaya PARTNER® Advanced Communications System
Growing businesses can take advantage of the cost-effectiveness of fractional T1 circuits and "business ready" digital subscriber lines (DSL) using the Avaya PARTNER Advanced Communications System (ACS). Designed to help meet the complex business telephone system needs facing small enterprises today with room for growth to meet future needs, more than one million PARTNER systems have been sold worldwide over the last 10 years.

The latest release of the PARTNER ACS business phone system provides more efficient, cost effective trunking options for T1 circuits, which can significantly reduce local and long distance costs. Do you have employees who regularly work away from the office? The PARTNER ACS offers a remote call-forwarding feature, which enables a call to be immediately directed to any external number, as well as applications to simplify call answering including standard Caller ID, and standard connections for answering machines, cordless sets, credit card readers and facsimile machines.
The PARTNER ACS business phone system is geared toward small businesses whose needs change rapidly. Call DTS.communications at (603) 429-0000 to learn more about how Avaya business telephone systems can help your business meet stay ahead of the curve!
Avaya MERLIN MAGIX® Integrated System
The Avaya MERLIN MAGIX Integrated System is a private branch exchange (PBX) with that can emulate a traditional key system. Flexible and scalable, this system meets the growing communications needs of small- and mid-sized businesses. It is ideal for small companies looking for the latest communications features, as well as for branch offices of larger companies.
With support for up to 80 lines and 200 extensions the MERLIN MAGIX system uses a single platform to deliver critical communications capabilities, from standard voice services to Internet access. Features such as Integrated Network Access (INA) reduce equipment, installation, service, administration, and maintenance costs. WinSPM, a Windows-based application, simplifies maintenance using on-screen icons and menu choices to give the system administrator full flexibility and management via the Internet.
Avaya Merlin Legend® Telephone System
Although no longer commercially marketed, the Avaya MERLIN LEGEND Telephone System (predecessor to the MERLIN MAGIX Integrated System) enjoys a large installed base. Full service and replacement parts for your MERLIN LEGEND are available from DTS.communications.
Avaya Phone System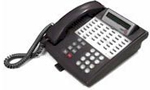 Save on an Avaya Partner system—call (603) 429-0000 for details and pricing today!
Our customers say...
"DTS.communications has been Eptam Plastics' telephone system service provider for over a year now, and we are very happy with the service they provide; they are second to none! DTS.communications is prompt, professional and the quality of work is outstanding. In today's busy world we do not have time to waste, and DTS delivers. We highly recommend them to anyone looking for a telephone and data company that is responsive."
Kathleen Morin,
EPTAM Plastics
Northfield, NH